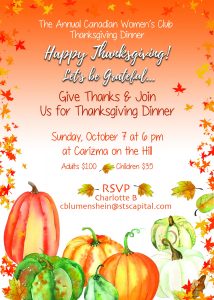 Gobble, Gobble . . .
The CWC and our fellow Canadians met on Sunday 7th October 2018 at Carizma on the Hill, St. James to celebrate Canadian Thanksgiving over dinner complete with all the fixings – Turkey, ham, cranberry sauce, freshly baked bread and salad followed by delicious pumpkin pie served with ice cream! You can view the entire dinner menu here: DINNER MENU.
We had a fabulous evening celebrating with family and friends – We ate, drank, socialized and the kids even got to have a swim in the pool after dinner!
We are grateful to have been able to share this event with all of you. Thank you to everyone who joined us for making it a success!
Photos from the Evening: (click on an image to enlarge)