The Canadian Women's Club is pleased to also be able to assist the HIV Food Bank in their mission.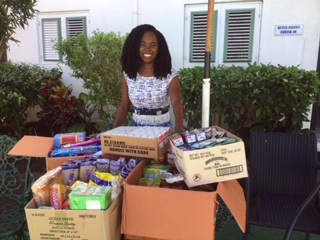 Pictured here is Stacia Whittaker from the HIV Food Bank receiving boxes of food items which were donated by our Members in December 2018.  Stacia was very grateful for the donation and thanks CWC Members for always coming to her assistance.
If you have any canned/dried food items which you would like to donate to the HIV Food Bank, you can bring these along with you to our monthly CWC Meetings where we will be collecting these items.    Alternatively,  donations can be dropped off to Ann's office (Plum Tree Club, Rockley, Christ Church) or to our VP – Kelly's home (John's Plain, Holders Hill, St. James).
Many thanks to all of our Members who generously donate to this cause!